Theme02
Building Resilient Communities
Adaptation: Living with the Changes in the Weather and Climate
Message
Resilient communities will protect people, their property, and the economy.
Damage can be minimized significantly, and recovery can be conducted swiftly.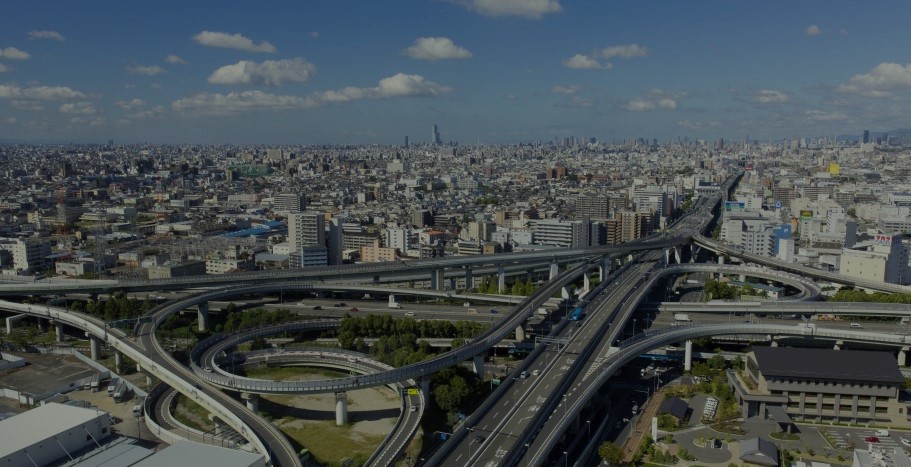 Helping to Build a Resilient Community Through Weather and Climate Forecasting
Weathernews assists corporations that support public transportation infrastructure, such as shipping companies, airlines, road management companies, and railways, by providing them solutions to weather related risks. We collectively refer to these services as "Transportation Weather".
Transportation infrastructure is essential to society, and enhancing safety leads to higher resilience toward disasters caused by the weather. For individual supporters (users), we utilize the weather reports they give us to provide high resolution weather forecasts that can address local and sudden phenomena. Everyday life is sustained by the information exchanged between users, such as detecting tornadoes and reporting on the flooding of roads.
Weather Service for Railways
Our services for railways began soon after the Uetsu Line accident in 2005, in which a train derailed and overturned due to a strong gust of wind, costing many precious lives. Strong winds can overturn trains, which is a serious hazard to safe railway operations. In addition, landslides caused by rain, as well as snow and freezing temperatures are not only direct obstacles to train operations, but can also result in equipment failure.
However, determining when to suspend or resume operations, or even when to conduct inspections, is very difficult for railroad companies because conventional weather forecasts do not provide information specific to a particular railway section or in hourly timelines, and there are always weather risks that cannot be predicted with just information on actual conditions and empirical data.
We are unique in that we possess proprietary infrastructure and rainfall analysis equipment to detect severe phenomena for locations where observation equipment is not deployed by public means. By informing railway companies of when and where strong winds and rain may occur several days in advance, we help them plan ahead for limited or suspended operations.
Knowing when the weather phenomena will settle down will help them define the schedule for conducting inspections and resuming operations. Other information provided to railways includes wind gust warnings, warnings for flooding in underground stations using rainfall amount analysis, and reviewing operation plans for bullet trains, which all help minimize any damage or loss due to severe weather.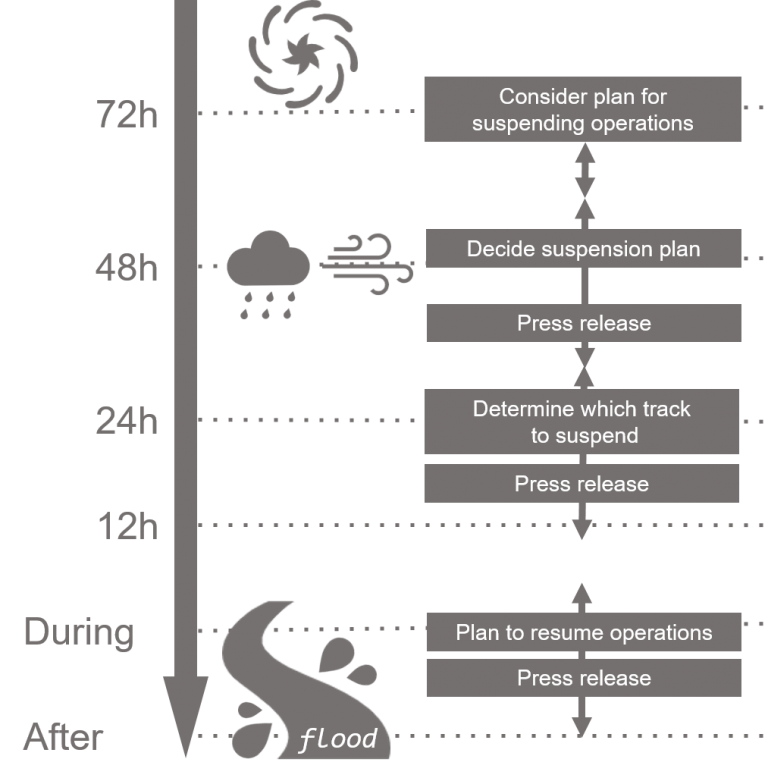 Weathernews was established to ensure the safety of mariners after a tragic maritime accident caused by a bomb cyclone took many lives. The desire to save as many people as possible by "reading the skies" and the climate is the core of our business development, which has evolved over the years into our current Transportation Weather services.
Weather Service for Road Management
Road management is essential in supporting transportation infrastructure. Weather related risks, such as vehicle stagnation due to heavy snowfall, landslides due to heavy rain, and jeopardy of safety due to changes in road surface conditions, such as flooding and freezing, must be avoided.
By monitoring rainfall, snowfall, strong winds, etc. real time using proprietary radar and analysis of rainfall amount, we can help road management companies to know which areas will be affected by the weather, so they can quickly and reliably stop traffic in advance, remove snow or use antifreeze, and inform drivers ahead of time (such as recommending they refrain from using the roads), thus reducing traffic accidents to zero.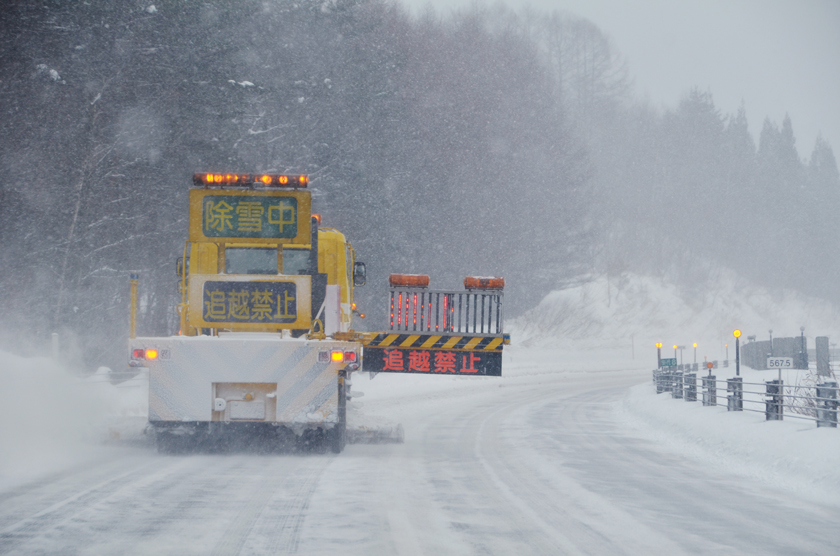 In order to prevent and avoid disaster and traffic congestion as much as possible and with limited resources, it is important to select efficient and appropriate measures and methods. Our "Staffing Decision-making Support" service helps road managers quantitatively assess weather risks and find the optimal solution for the situation.
For logistics companies and individual drivers, time-consuming traffic jams are one of the risks they wish to avoid most. In response to this need, we deliver real time observations and weather forecasts to drivers via multiple devices such as smartphones and monitor screens deployed at highway rest areas.
Decisions for restricting roads are made based on data for past disasters. In recent years, however, abnormal weather conditions have sometimes brought forth unprecedented conditions. In order to protect the safety and security of drivers and pedestrians, we are constantly improving our services by deploying additional infrastructure, monitoring actual conditions, and maintaining close contact with road administrators.
Making the Weather Forecast Together
In recent years, there have been more cases of abnormal phenomena such as heat waves, typhoons, guerrilla rains, and heavy snowfalls due to climate change, increasing the demand for more localized and immediate weather forecasting to mitigate and prevent disasters.
We have been making weather forecasts along with our users since 2005. The user weather reports based on images they capture and weather conditions observed by their physical senses is incorporated into our forecasts, allowing us to provide pinpoint and detailed weather forecasts, such as the first 5-minute forecast in the industry, as well as forecasts for sudden and localized guerrilla thunderstorms, which are extremely hard to predict.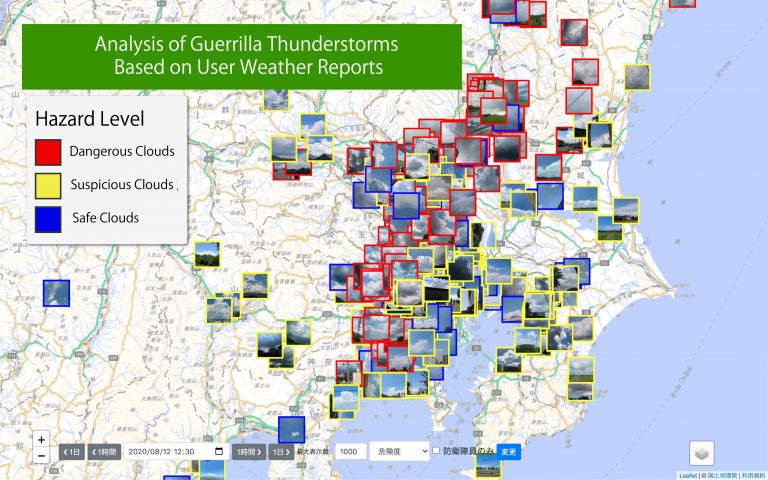 Currently, the accuracy of our weather forecasts rates over 90%, and the accumulated number of "Weather Reports" received from users has surpassed 5.2 million (as of November 2020) since its launch in November 2005.
The whole engagement of being sensitive to the changes in sky conditions and physical feeling of the weather through the "Weather Report" system, and fostering familiarity and interest in the weather will help promote understanding of weather phenomena and raise awareness of disaster mitigation and prevention in each individual. We believe that by better understanding weather and disaster prevention information, people can be empowered to help themselves and others without hesitation in times of emergency, thus enhancing the resilience of communities.
We will continue to work with our users to provide the world's most reliable weather information in order to reduce the damage caused by weather phenomena as much as possible, and to foster awareness of disaster mitigation and prevention in the global community.
Transportation weather has a wide range of issues to be addressed: first, to protect human lives; second, to secure rescue and recovery routes after a disaster; and third, to protect the economic activities of businesses and people by avoiding the suspension of operations through appropriate safety management measures.
Climate change may cause severe weather phenomena, even worse than ever before. That is why we must continue to make effort to improve the accuracy of our forecasts and have higher expertise. Our journey to protect people's lives and property, as well as the economic activities of companies will continue, by identifying and informing them of the risks of natural disasters through our weather and climate forecasts. We will promptly inform transportation corporations and residents, working together to build a community that is resilient to natural disasters.