Marine
Total Sea Logistics Support and Coast Lookout

Concept of Marine Weather Service
Coastal Vessels

Supporting safety, economic and environmentally friendly operations for coastal vessels

On/Off Berth Support

Safety berthing operation for large LNG tankers, oil tankers and bulkers

Onshore Operations

Safe port operations for container handling gantry cranes; safe and dry crane operations for steel products

Marine Operations

Safe marine construction on-schedule
Weather Conditions Affecting Customers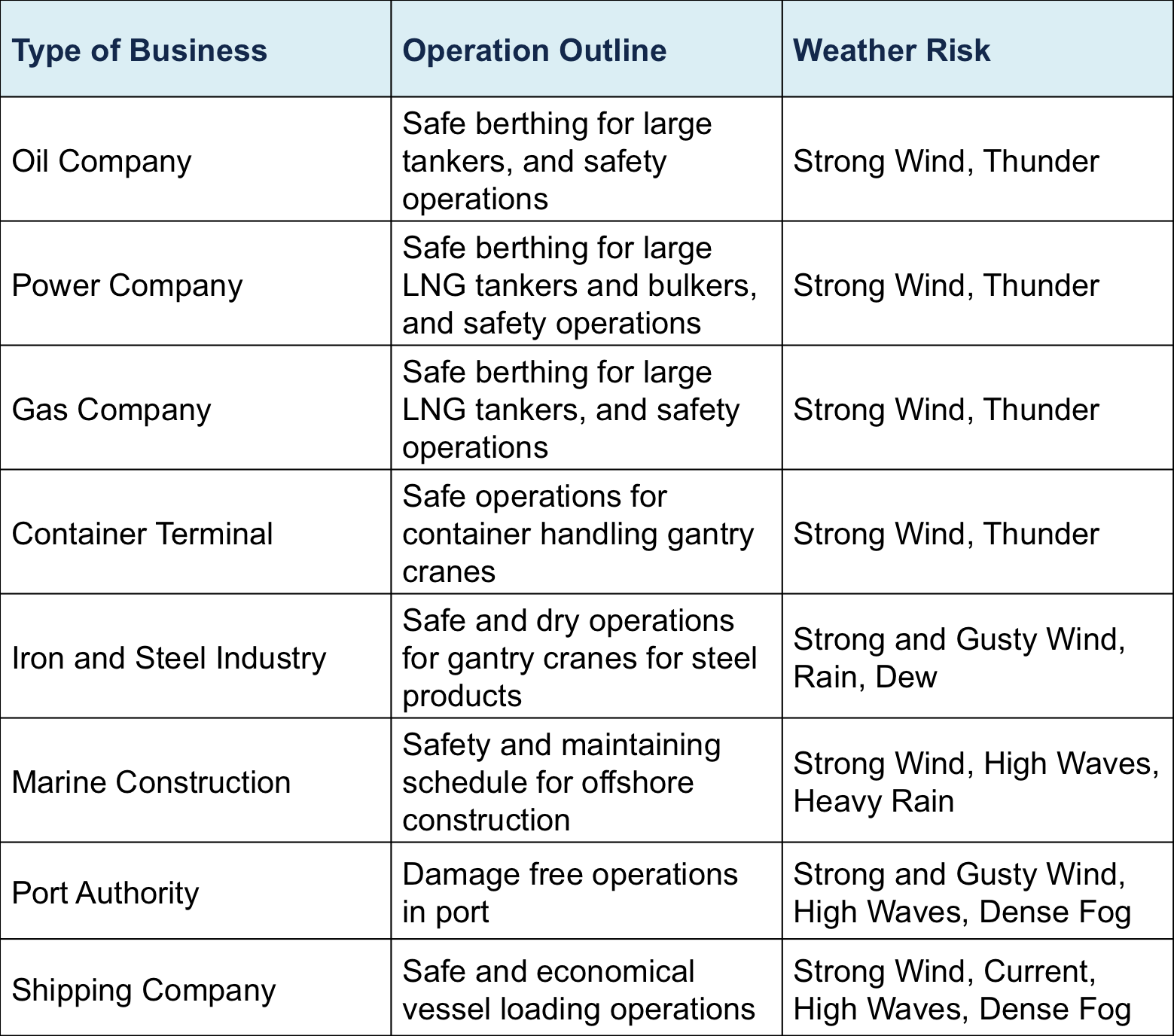 Go or No-Go Decision Support
We provide information that supports the Captain and operators make the decision to leave port or not, and then whether or not to berth at the destination. Vessel operators can confirm the potential influence of weather factors on vessel schedules and ETA (Estimated Time of Arrival), then contact their customers and make arrangements for vessel chartering. Also, Ship Masters and operators can monitor various observation data and camera images from Seaman's Eye to check conditions at sea.
Case example
On December 16th, 2014, a low-pressure system passing through the Sea of Japan rapidly developed. When the vessel planned to navigate from Fukuoka to Ube (Japan), the Master decided not to leave port for another two days because waves over 4m were forecast on the west coast of Japan. However the Master and ship operator decided to sail only a day later thanks to our service and risk communication information. Our customer was able to minimize delay to schedules and save on charter berthing fees.
Operable Window Decision Support
We support safe crane operations against the risks of strong and gusty wind with data from Weathernews' prorietary WITH Radar.
We also provides content on wind and wave forecasts to support marine construction activities onshore and offshore.