Aviation
Supporting over 13,000 flights per day for safety, economic savings and comfortable flight.

Concept of Aviation Weather Service
We support customer decision making to achieve the optimum flight timing entirely from planning to landing in order to enhance the quality of service from safety transportation to comfortable travel for passengers.
Support Documentation
Weather phenomena impacting the aviation industry
We provide operational decision support for each flight, taking into account client specific weather landing minimum thresholds. Each airline has set their own weather minimums based on airports, aircraft and pilot rating.
We provide optimum flight routeing based on accurate en-route weather forecasts. When creating flights, Minimum Time Track (MTT), Minimum Fuel Track (MFT), or Minimum Cost Track (MCT) are analyzed. Minimum significant weather track is also useful information for flight planners and pilots.
Go or No-Go Decision Support
To support operation managers more effectively, we changed the telegram format of TAF to our unique color coded index.
This index is not only for Go/No-Go decisions based on weather related landing minimums of each flight but also for decisions for extra-fuel load as well as decisions on delayed flights or cancellations.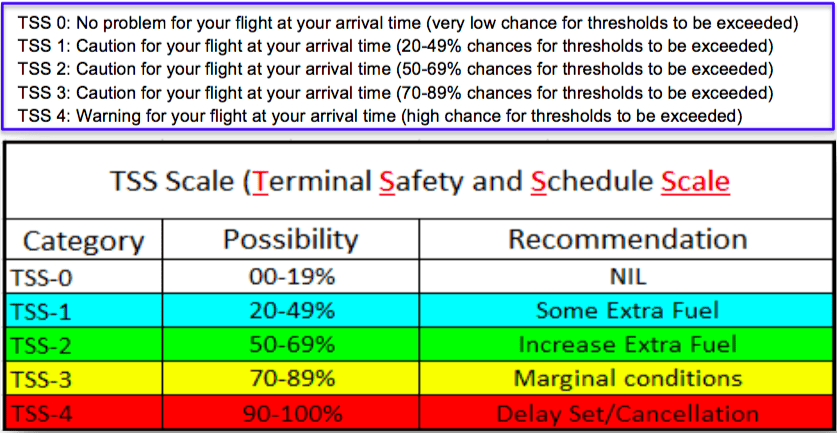 Case example
The chart below shows the monthly percentages of WNI forecasts for visibility and ceiling which contributed to safety and efficiency more than government forecasts for the same period (March 2014 and August 2014).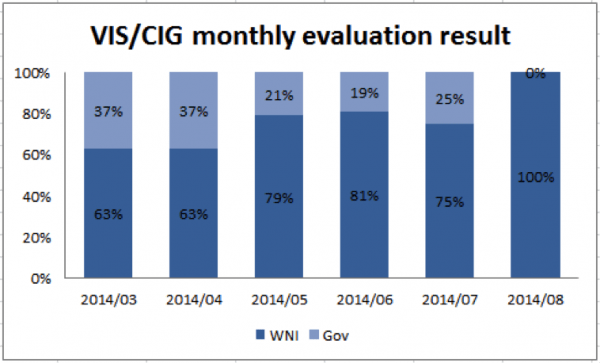 En-route Optimization Support
We support dispatchers and pilots making flight plans by providing optimization route/attitude with our original risk index and risk communication service that includes advisory on in-flight operations like seat belt-signs and meal service. We also monitor on volcanic eruptions and turbulence en route to help ensure flight safety until arrival.
Case example
Evaluation our forecasts between ZSPD-CYVR and ZSPD-KLAX in terms of turbulence and icing, from May to November in 2011.