News & Press Release
"Weathernews" Application for Samsung Galaxy S Smartphone in Korea
Most popular Japanese weather application released for Korean market
Weathernews Inc. (Tokyo, Japan - CEO: Chihito Kusabiraki) has announced that its weather-driven application, "Weathernews," will come pre-installed on Samsung Electronics's new model smartphone, GALAXY S. The GALAXY S goes on sale today in South Korea. Pre-installation of "Weathernews" follows the immense popularity of the "Weathernews Touch" application for smartphones that exceeded 1,000,000 downloads in Japan. This application's innovation and technology have been highly praised by Japanese users since its release in 2009. Now, smartphone users in Korea can enjoy a specially developed version for free. Using the "Weathernews" application, GALAXY S users can tap a weather icon on the main screen for easy access to local weather information, and can also check live cameras showing the condition of the sky. Weathernews aims to use this entry into the Korean smartphone market as a chance to provide even more convenient weather information in the future, and continues to develop content with a global outlook.
Providing the "Weathernews" on GALAXY S Smart Phone to the Korean Market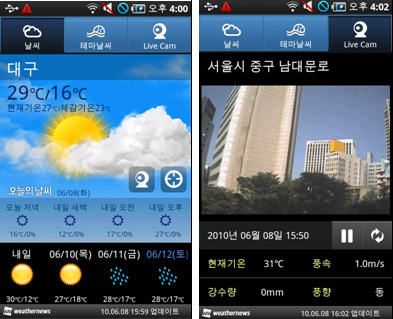 The "Weathernews" application pre-installed on Samsung's GALAXY S smartphone features weather forecast information displayed on a user-friendly screen. Users can quickly check the weekly forecast, air pressure, chance of precipitation, satellite images, and radar images of rain in South Korea anytime. Users can also check images of the sky from live cameras installed at various locations across the country, so they can see for themselves that the information in the forecast is really accurate before they leave to go out. Weathernews plans to use the knowledge, experience and user feedback gained from deploying their smartphone application in the Korean market to further weather-driven applications for other countries around the globe.
Weathernews Inc.
Weathernews Inc. is the world's largest private weather service company.
It is the only global weather contents provider that has over 600 staffs (including more than 350 meteorologists) in 31 offices in the main cities around the world.
Weathernews offers a full range of weather content services based on a solid man & machine shareware system. In November 2003, Weathernews became the first weather service company ever listed on the 1st Section of the Tokyo Stock Exchange (4825).