News & Press Release
Sea Ice Routeing Weathernews Starts Supporting for Sakhalin 2 LNG Vessels
Weathernews Inc (Tokyo, Chihito Kusabiraki CEO) has started providing a new Voyage Planning service named "Ice Routeing" from mid-March. "Ice Routeing" will provide the latest route infomation on sea-ice conditions to vessels transporting Liquefied Natural Gas (LNG) in and out of ports from Sakahalin 2 to help ensure safe voyages to and from Japan and Sakahalin. Sakhalin island, in the Sea of Okhotsk between Russia and Japan, is the site of a large-scale oil and natural gas mining development. "Ice Routeing" will contribute a wide reaching effect on the vessels by analyzing and predicting sea-ice conditions, along with supporting ships with voyage-planning, go/no go sailing decisions and safety bulletins en-route.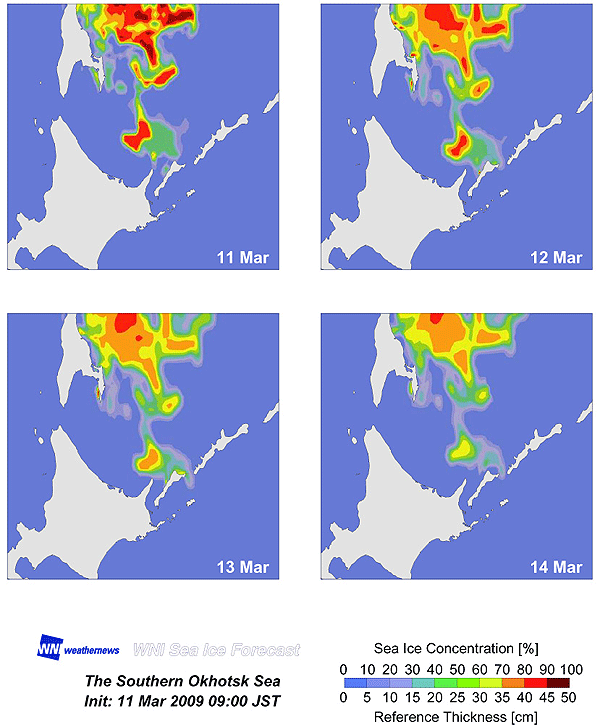 About 50% of the gas produced yearly at Sakhalin 2 is exported to Japan, and transported by LNG carriers.
With the focus on natural gas as a clean energy source, it is predicted that there will be a trend of increasing shipments.
However, the severe demands placed on vessels by the sea-ice and high seas that surround the island make it necessary to provide regularly updated information which vessels' masters and operators can use for optimized voyage schedule planning and management of cargo loading/unloading operations.
Weathernews is currently working as a partner together with experts on polar conditions from around the world to provide highly accurate ice analysis and prediction, as well as with leading shipping companies to provide improved services for the shipping industry.
Our company first established a Global Ice Center last July with a goal to monitor and analyze sea ice, and will eventually provide shipping companies with sea ice information to route vessels via Arctic Ocean.
"Ice Routeing" is a part of our core "Optimum Ship Routeing (OSR) "service, and also represents the first developmental step toward realizing a "Polar Routeing" service. Based on the latest maritime weather data, Weathernews supports vessels and operators by monitoring and predicting sea-ice levels in the gulf of Sakhalin.
Using satellite observation data, Weathernews will apply our in-house developed "I-SEE-ENGINE" to analyze and predict the distribution, density and thickness. Daily updates will be sent to support vessels for safe sea-going.
When used together with our "Safety First Routeing" and "Quickest-Arrival Routeing" services, we can provide a comprehensive service to vessels from departure to discharge with optimum voyage planning and support for management operations.
In the future this service will be used in the same way to support safe and economical ice navigation assistance required for voyages via the Arctic Ocean, Baltic Sea, Bo Hai, and the Gulf of St. Lawrence.
Sakhalin 2 Project:

A large-scale development for the production of oil and natural gas from reserves on the Sakhalin Island off the northeast coast of Russia.Although Sakhalin is rich in natural resources, sea-ice and high seas present logistical problems to production. In 1994, a production sharing agreement was signed with the Russian government, and an international consortium was established to allow partners like Royal Dutch Shell, Mitusi Co. Ltd., and the Mitsubishi Corporation to capitalize on the development. Processing plants, pipelines and transport facilities went on-line last month, and the first shipment of liquefied natural gas is scheduled to be sent this March.
Weathernews Inc.
Weathernews Inc. is the world's largest private weather service company.
It is the only global weather contents provider that has over 600 staffs (including more than 350 meteorologists) in 31 offices in the main cities around the world.
Weathernews offers a full range of weather content services based on a solid man & machine shareware system. In November 2003, Weathernews became the first weather service company ever listed on the 1st Section of the Tokyo Stock Exchange (4825).