News & Press Release
Weathernews Opens State-of-Art Operations Center on The University of Oklahoma's South Research Campus -- Weathernews' Opening Highlights Norman, Oklahoma' s Expanding Role in Research and Development for the Weather Industry --
Oklahoma Office >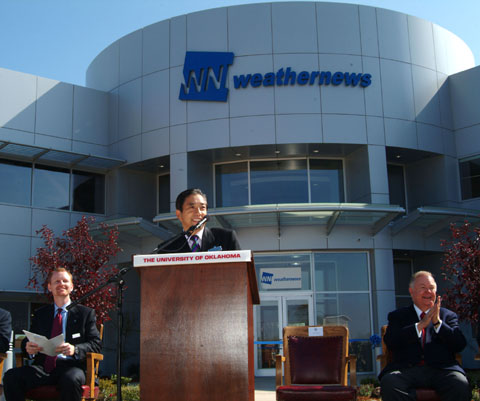 Norman, Okla. and San Francisco, Calif., (October 20, 2004) Weathernews, the world's largest, publicly-traded, full-service weather company, today hosted the Grand Opening of its U.S. Operations Center in Norman, Oklahoma. Located on the University of Oklahoma (OU) Research Campus South, Weathernews' center is a state-of-the-art operations facility focused on delivering weather services, such as forecasting, analysis and risk communications, that help companies and individuals better manage the impact of weather.
"We are thrilled to share the excitement in opening our completed operations center and fulfill the goal we set forth for ourselves last year," said Hiroyoshi Ishibashi, Global Chairman and CEO of Weathernews, Inc. "Now that our U.S. operations will be working together with some of the best meteorological organizations, we are well positioned and dedicated to fostering innovation in the weather industry and applying that innovation to commercial industries around the world."
"OU and the city of Norman are major meteorological centers, playing host to the world's top resources and technology in the weather industry," said OU President David Boren. "The opening of Weathernews' Operation Center is an important milestone in OU's commitment to developing strong private and public partnerships."
Weathernews has been operating an aviation service center in Norman since July 2003, and now that its new facility is complete, the company's U.S. operations, including mobile phone, aviation, marine, offshore oil operations and energy, will work together under one roof. Over 12,000 business clients, including American Airlines, ChevronTexaco Shipping, Club Med and Verizon Wireless, will be serviced 24x7x365 by experienced meteorologists from the new facility. Staffed by nearly 100 Weathernews employees, the operations center is located on the newly paved David L. Boren Boulevard across from OU's Lloyd Noble Center.
Weathernews Inc.
Weathernews Inc. is the world's largest private weather service company.
It is the only global weather contents provider that has over 600 staffs (including more than 350 meteorologists) in 31 offices in the main cities around the world.
Weathernews offers a full range of weather content services based on a solid man & machine shareware system. In November 2003, Weathernews became the first weather service company ever listed on the 1st Section of the Tokyo Stock Exchange (4825).