News & Press Release
Joint Partnership of Industry-Government-Academia in the State of Oklahoma
Introduction
The State of Oklahoma is committed to building a component of its economy around weather. Because of its geographic location, Oklahoma is frequented by tornadoes, and suffers a variety of disasters due to severe wind, heavy rain, snow and icing. As the "Mecca of Meteorology," or as a center of excellence for the study of weather, the University of Oklahoma (OU) in Norman, Oklahoma, has conducted extensive weather research to help people prevent weather-related risks and damages.
Governor Brad Henry, who was officially sworn in as the 26th Governor of Oklahoma on January 13, 2003, is spearheading an effort to make Oklahoma "the Research Capital of the Plains" and is focusing on "weather" to create and grow strong academic and private partnerships, using both informal and formal alliances, nationally and internationally, to bring research and development outcomes to the marketplace for the creation of jobs.
The 3-way joint partnership is not only a noteworthy approach but is also an unprecedented approach in the weather industry.
Research Campus at the University of Oklahoma
With a view to integrating weather-related research, the state of Oklahoma is setting up the Oklahoma Research Campus within the University of Oklahoma complex.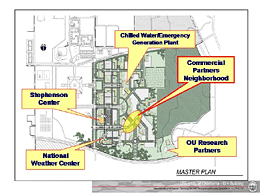 The 244,000 square feet research Campus, due for full open in 2006, will house the University's weather research facilities, major federal, state and private research, daily forecast institutions and companies. Among others, the Storm Prediction Center (SPC) is already operational. The mission of the SPC is to provide accurate daily forecasts and watches for severe thunderstorms and tornadoes over the contiguous U.S. Thus, it will become possible to use the latest observation facilities and conduct a broad spectrum of weather research when the Research Campus is fully operational.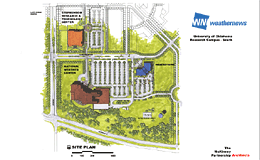 Additionally, Weathernews Americas, a private weather company owned by a Japanese parent company, Weathernews Inc., will be operational in its new facility on the Research Campus in September 2004. The National Weather Center, a facility housing 12 different academic and government organizations, is in the process of being built on the Research Campus and will be fully occupied in 2006. It will be further followed by U.S. federal National Weather Service, private weather companies and other related industries and companies, so that a true Industry, Government and Academia joint partnership can be achieved.
The National Weather Center (NWC)
NWC, housed within the Research Campus, is expected to play a leading role in weather research in the state of Oklahoma. It is a unique confederation of federal, state and University of Oklahoma organizations that work together in partnership.
NWC works with a wide range of federal, state and local government agencies to help reduce loss of life and property to hazardous weather, insure wise use of water resources, enhance agricultural production, and develop renewable energy resources.
NWC also works with private sector partners to develop new applications of weather and regional climate information to provide competitive advantage in the marketplace.
Currently, some 650 researchers and staff work at the NWC. It gives an employment opportunity for about 45 million dollars annually.
NWC's primary functions are as follows;
To observe tornadoes, hail and other severe weather using Doppler radar system, among others.
To use Doppler radar system for government and industry use, and develop lightening and other weather models
To operate Oklahoma Mesonet jointly with the Oklahoma State University. The Oklahoma Mesonet is a world-class network of environmental monitoring stations.
To continuously enhance Doppler radar network in the nation

To network with the internationally-known National Severe Storms Laboratory and other national and university organizations to conduct advanced weather research.
Some Examples of 3-way Partnerships
One of the revolutionary and promising technologies being developed in the 3-way joint partnerships is the practical application of the "non-rotating radar system".
The non-rotating radar, known as "Phased Array Radar", has been originally developed for U.S. Military by the National Severe Storms Laboratory to observe tornadoes.
Unlike the conventional rotating radar, which can only monitor weather every 5 minutes, the Phased Array Radar can monitor every minute or two. Thus, tornadoes can be detected as early as 30 minutes before tornadoes are born.
(With the conventional radar system, tornadoes on average can be detected only 11 minutes before they are born)
Efforts are also being made by the state and private companies to come up with a communication system to individual households to transmit the radar data to help reduce damages to peoples' lives and property.
Meanwhile, private companies including TV stations and cellular phone carriers, are providing weather information to the public in an easy-to-understand manner.
Weathernews Inc.
Weathernews Inc. is the world's largest private weather service company.
It is the only global weather contents provider that has over 600 staffs (including more than 350 meteorologists) in 31 offices in the main cities around the world.
Weathernews offers a full range of weather content services based on a solid man & machine shareware system. In November 2003, Weathernews became the first weather service company ever listed on the 1st Section of the Tokyo Stock Exchange (4825).