News & Press Release
Special Site for Disaster Area Up, Informing Latest Weather
 Weathernews Inc. expresses its heartfelt sorrow to everyone affected by the flood that occurred in southeastern India. Based on our original mission here at Weathernews (Japan, CEO: Chihito Kusabiraki) to assist people affected by severe weather and natural disasters, Weathernews is releasing India rain disaster information through a special website setup to inform the latest on weather conditions affecting people engaged in rescue efforts to mitigate the damage in the disaster areas.
Special Site for India rain disaster information here
Please access the special site from the URL below:
http://g.sunnycomb.com/mm/
This URL can be viewed on PC and Smart Phones
After downloading the Sunnycomb app, you can access special information from Notifications.
Special rain information site for the disaster areas online
 In response to the large scale flooding in southeastern India, Weathernews has created a dedicated website and content for our smartphone app, Sunnycomb, for people in the affected areas, starting with Chennai. The main content comes from our global forecasts which also cover current conditions in southeastern India. Weathernews will support people in India working for recovery operation safely in this devastated region, and help prevent secondary victimization.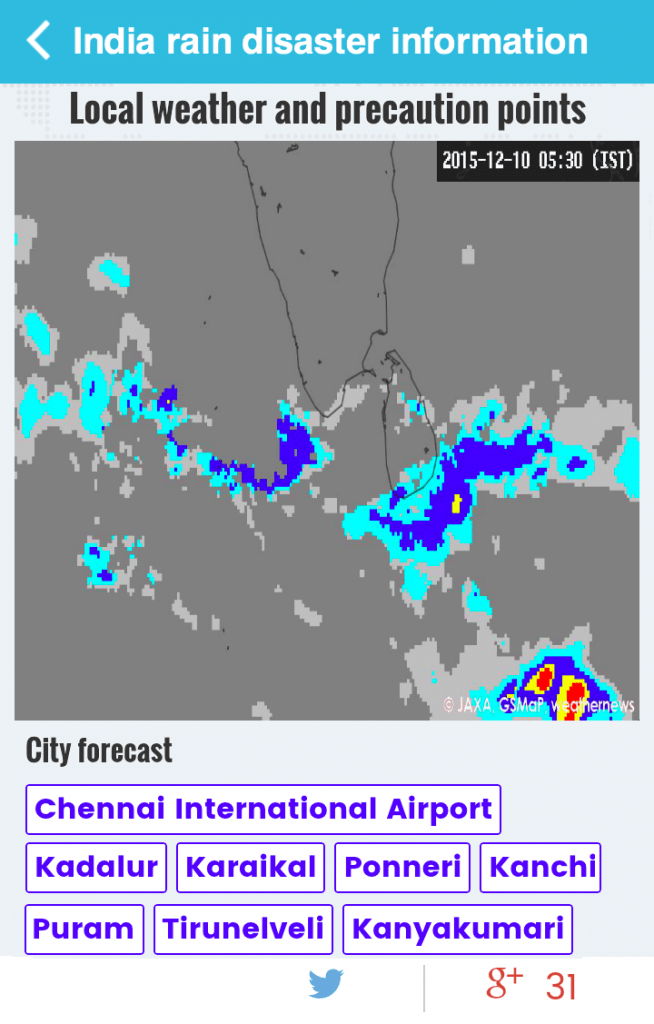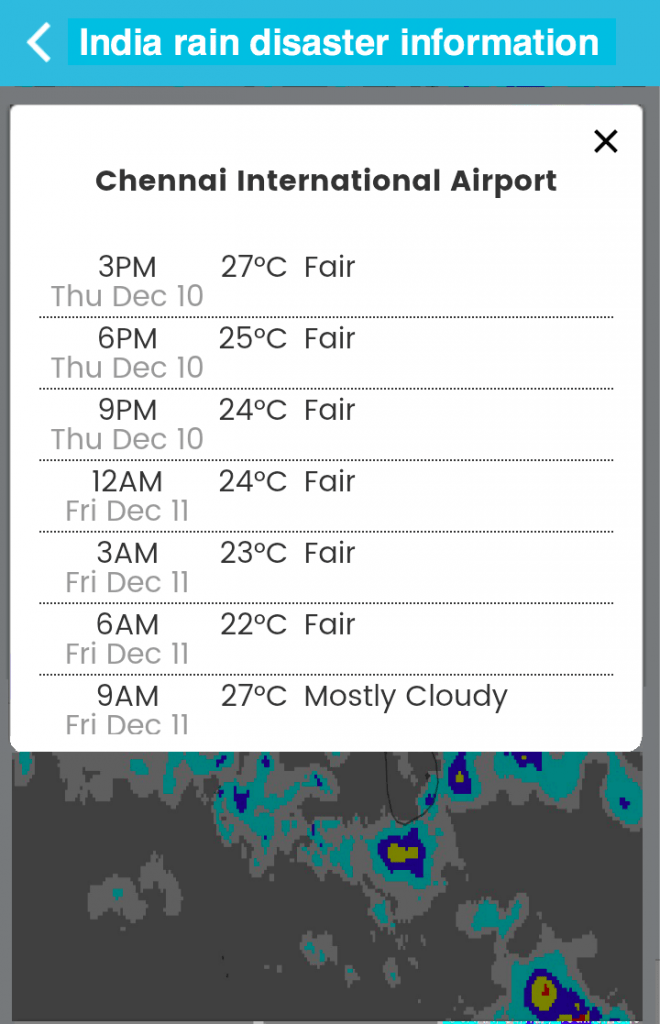 Mechanism of heavy rains in November over Chennai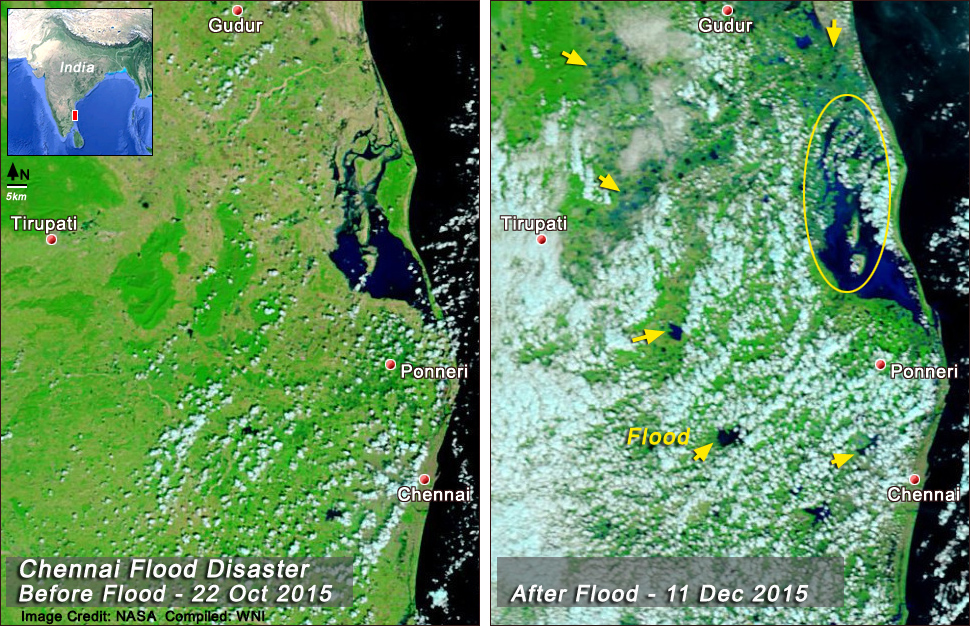 This year, convective activity in the Bay of Bengal was more active than normal year, and low pressure systems developed successively. This resulted in continuous heavy rain in southeastern India. This active convection could have been caused by El Nino.
 If we look at the monthly average rainfall over the last six years (fig.2), we can see that the month of November is often the period that sees the most rainfall in Chennai. However, precipitation this November is almost three-times as much as a normal year, reaching about 1,200 mm. Also, if we compare the estimated precipitation for November this year and last (fig.3), the rainfall amount reached between 400 mm to 1,000 mm in southeastern India in 2015, and this can be though as the trigger for the damage from the flood.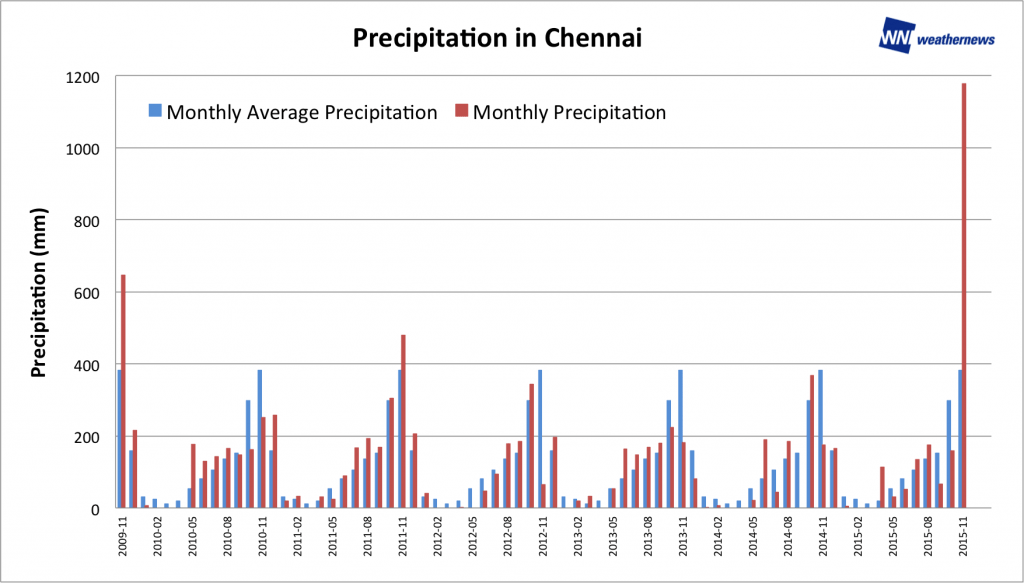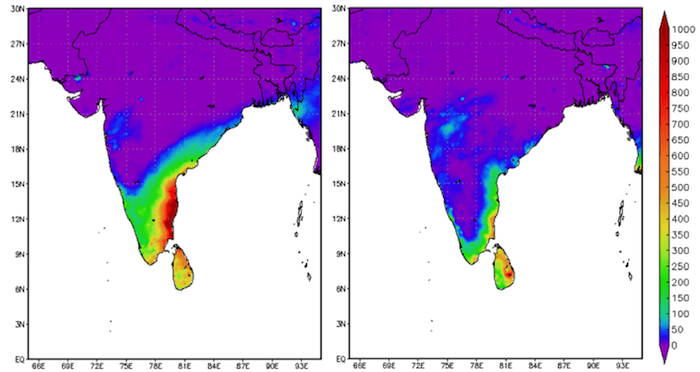 Weathernews is committed to providing useful weather information to people all the over the globe, and will continue to provide useful information to people engaged in recovery efforts now in India. We hope this will mitigate damage from future disasters caused by heavy rainfall in India.