News & Press Release
Why Has Weathernews Launched a Drone Project?
Aviation >
Drones have become widely used around the globe. In Japan, there are growing expectations regarding the use of drones in various areas, such as spraying pesticides in agriculture and use in search and rescue attempts in the event of a disaster. Weathernews launched its Drone Project at the beginning of 2016. We asked Ms. Mie Takamori, the Leader of the Drone Project, about why the project was launched.
- How widespread has drone usage become in Japan?
Takamori:
   The use of drones in Japan has increased rapidly since 2015. Approximately 2,150 drones were sold in 2015, with a market value of approximately JPY 3.8 billion, but this number is expected to increase to approximately 10,200 drones in 2020, valued at approximately JPY 63.4 billion. The market is expected to expand seventeen-fold over five years. The range of applications has opened up possibilities in a variety of areas such as aerial photography, crop spraying, facility inspections and home delivery, and there has been an increase in venture companies entering the drone business in recent years.
- Weathernews launched its Drone Project at the start of 2016. What is the objective of the project?
Takamori:
   Because drones fly at low altitudes, they are greatly affected by wind and sudden storms near the ground. For example, even if the drone is able to fly, if visibility is poor it will be unable to complete its mission such as aerial photography. In addition, it may also lose control if buffeted by a sudden gust of wind. There is also the risk of crashing in a densely populated area. Although many issues remain, such as the need for legislation for safe operation of drones, the drone business is expected to accelerate rapidly once such aspects have been clarified.
   Since its foundation, Weathernews has provided support services for the safe operation of helicopters such as disaster relief helicopters and medical helicopters. Like drones, helicopters are greatly affected by weather near the ground because they fly at low altitudes. It is vital to accurately ascertain weather conditions when determining whether or not it is possible to fly because accidents can cause a loss of human life. Although weather at low altitudes is difficult to predict because it is greatly affected by terrain and localized phenomena tend to occur, we have accumulated substantial expertise as we have provided support for the safe operation of helicopters. We launched the Drone Project because we thought we could utilize this knowledge to provide customers conducting drone businesses with support for safe operation.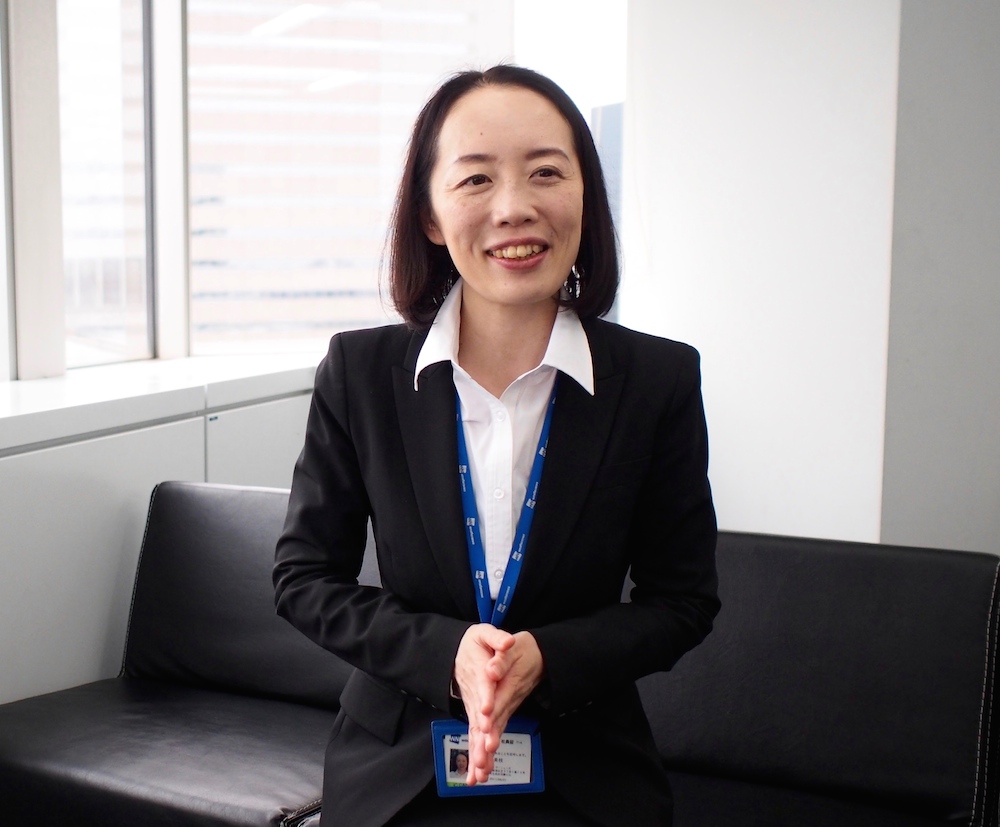 - Has actual support for flying drones begun?
Takamori:
   Yes, it has begun. Makuhari, Chiba, where the Weathernews Global Center is located, is a national strategic zone for conducting trials for the practical implementation of drone-based home delivery services in Japan. Last April, a trial using drones to carry packages to the roof of an apartment building was carried out for the first time in Japan. At the time, I went to the site to observe the weather, and provided support for the decision to fly or not based on the latest weather information. Also, on January 12th of this year, the world's first fully autonomous long-distance flight was conducted when a multicopter drone was used to carry warm soup to surfers off the shore of Fukushima prefecture. Weathernews provided weather information for determining whether or not it was possible to fly, and also installed the "FOSTER-CoPilot" helicopter monitoring system to accurately ascertain the position and condition of the drone while flying. As a result, the drone reached the surfers safely, and we were relieved. In addition, weather observation using drones has also started at sports venues recently.
   In this way, while drone operation support is in the trial phase, we would like to provide a wide range of support to people who wish to conduct business using drones in the future.
Route of the multicopter drone that conducted the world's first completely autonomous long-distance flight, monitored by "FOSTER-CoPilot"
- Drones are also expected to be used when disasters occur. What kind of things will Weathernews be able to do?
Takamori:
   As you know, Japan is a country that has many natural disasters. The use of drones in disasters has become an important topic. The utilization of drones may enable surveys of disaster conditions in areas that are inaccessible immediately after a disaster occurs, searching for survivors, and rapid delivery of supplies to people who have become isolated.
   When the Kumamoto earthquakes occurred on April 14th and 16th, 2016, Weathernews provided weather support for safe operation of medical helicopters conducting medical transportation. We also contributed to the tracking of aircraft locations and selection of aircraft that could be rapidly deployed through the provision of the "FOSTER-CoPilot" carry-on helicopter monitoring system. I think these experiences will prove to be useful in the activities of drones when disasters occur. Weathernews has the desire to "be of assistance in times of crisis." By creating a robust service for drones, we would like to help people when in their time of need.